Go2kashmir.com >> Trekking Tour >> Tulian Lake Trek >> 1 Night & 2 Days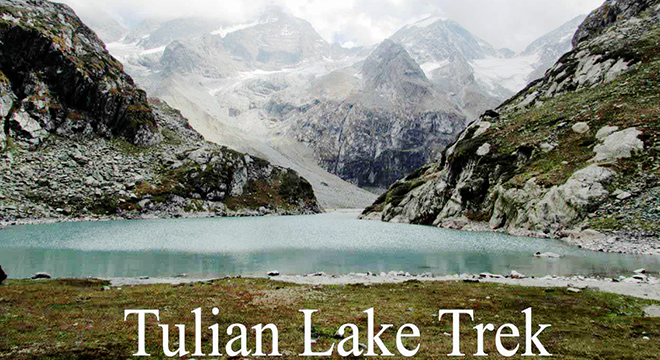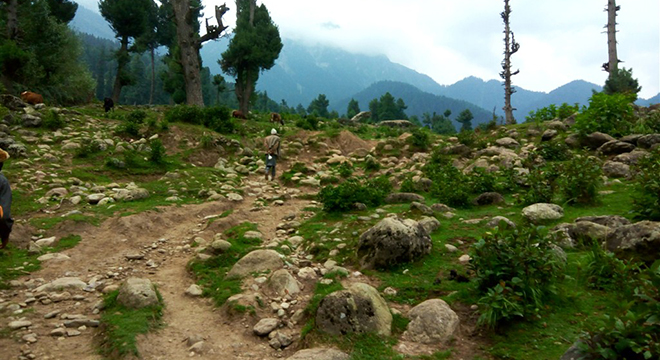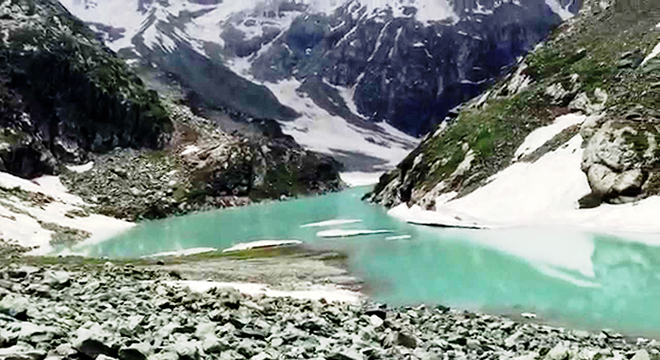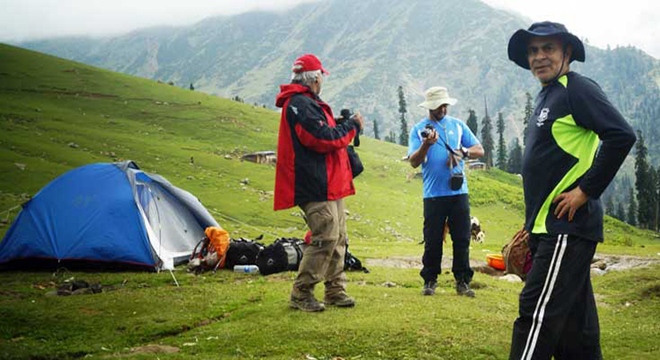 Overview
Tulian Lake is located at Pahalgam in Anantnag District. The Lake lies between the two Himalayan mountain ranges of Pir Panjal and Zanskar. It lies at an altitude of 3,684 metres (12,087 ft) above sea level, 16 kilometers (9.9 mi) southwest from Pahalgam and 11 kilometers (6.8 mi) from Baisaran. This lake remains frozen for a few months in the winter but it stays welcoming for the rest of the year. The lake assumes the shape of number 8, split by a narrow inlet that connects the water source. The color of the water body is quite a contrast to the snow-capped peaks and multi-coloured mountain range adorning the perimeter.
Short Itinerary
Day 1 Day 1 of the Tulian Lake Trek : Pahalgam - Kanimarg - Tulian Lake
Day 2 Day 2 of the Tulian Lake Trek : Tulian Lake - Kanimarg - Baisaran - Pahalgam - Srinagar
We start our day tour from Pahalgam to Baisaran early in the morning heading towards Tulian Lake via Kanimarg. The trek is moderate and you can see lush green meadows and grazing lands till you reach Baisaran in about a walk for an hour. As we move forward, we face denser forest whose tall trees barely let the sun come to the ground, and reach the first resting spot of the tour, Kanimarg. You can have a little rest here & refill your requirements, then we can move forward through the steep terrain of the forest again to reach Tulian valley. From here we walk for just a few minutes to finally reach the magnificent wonderland, The Tulian Lake. Enjoy your camping experience, have your dinner and you will feel calm and far away from day to day special routine at this Tulian valley to camp out and overnight stay.
Early in the morning have your breakfast and start moving back from Tulian Valley with remarkable memories and enjoyed your camping experience. We follow the same route and trek down the steep trail to reach Kanimarg. We walk via Baisaran to reach Pahalgam. Drop at Srinagar for the tourists who opt for the service.
Includes
All road transport by private ac cars (airport transfers/ from Srinagar to base camp and back).
Arrival/ departure 2 nights Deluxe Houseboat or Hotel accommodation in Srinagar (full board), unless specified.
2 nights tented accommodation (full-board) mountain camps.
All trekking gear included: tents, toilet tent, sleeping bags, mats, blankets, trekking poles.
English Speaking Kashmiri Local Guide and a Cook.
All cooking utensils including cooking LPG stove.
Horses to carry backpack (except day sack), group equipment (tents/ stoves/ fuel) to the higher camps.
All meals included (vegetarian meals including eggs and cheese, unless specified.
Trek/ Wildlife Permits.
First Aid including Medical Oxygen Cylinder.
All applicable taxes
Excludes
International or domestic flights
Visa.
Travel insurance.
Personal clothing and equipment.
Any medical costs incurred by you, or costs associated with a medical incident, such as your evacuation from the mountain and/ or hospitalization (for which you should have travel insurance).
Optional trips or excursions.
Tips for local staff and guides.
We Provide
Qualified and experienced trek Leader
Services of guide, cook and support team
You need to get
Ruck sack bag with rain cover
Hand torch with spare batteries
UV-protection sunglasses
1 Litre water bottle
Pair of light weight slippers/sandals (for the campsite)
2 quick-dry, warm lowers or track pants
4-5 full sleeves T-shirts or sweatshirts
4-5 pairs of thick woollen socks
Thermal body warmer (T-shirt and pants)
8-9 undergarments
Warm jacket closed at wrist and neck
Full sleeves sweater
Rain wear (jacket and pants)
Pair of warm gloves
Woollen cap
Sun-shielding hat
Personal toiletries kit (towel, toilet paper, paper soap, bar soap, toothbrush, toothpaste, cold cream, etc.)
Sunscreen lotion (small pack)
Lip balm
Utensils: small size, light weight and leak-proof lunch box, plate, spoon, tea/coffee mug
Camera (optional)
Dry fruits, nuts, chocolate bars (optional)
What to Wear
T-shirts
Comfortable trousers
Trekking boots
Warm clothing
What not to Wear
Expensive jewellery or watches
Sports shoes/floaters/slippers
Restrictive clothing
Quick Enquiry
Call : +91-9999-552-262
Email : info@go2kashmir.com
1 Nights / 2 Days Package
STANDARD
Why Book With Us !
Best price guaranteed.
24 hours support.
Instant confirmation and real live booking.